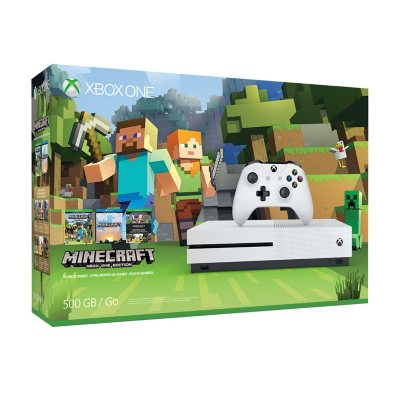 Description
Item: 893778
Brand: Microsoft
Model: ZQ9-00043
The Xbox One S Minecraft Favorites Bundle (500GB) features everything you need to build, create, and explore! Get full game downloads of Minecraft for Xbox One and Windows 10, plus thirteen fabulous, community-favorite content Packs, including Halo Mash-up and Festive Mash-up. Craft new Minecraft worlds together with friends on Xbox Live, the best community of gamers around the world. And now with the new Xbox One S, you can even watch 4K Blu-ray™ movies, stream in stunning 4K Ultra HD, and play a growing library of Xbox 360 games. With all the biggest blockbusters this year, there's never been a better time to jump ahead with Xbox One.
The Xbox One S features 4K Ultra HD video and High Dynamic Range for richer, more luminous colors. With a higher contrast ratio between lights and darks, HDR technology brings out the true visual depth of your games. With four times the resolution of standard HD, 4K Ultra HD delivers the clearest, most realistic video possible. Stream 4K content on Netflix and Amazon Video and watch Ultra HD Blu-ray movies in stunning visual fidelity.
With the integrated IR Blaster, you can configure your Xbox One S to turn on other devices, like your TV, audio/video receiver and cable/satellite receiver. Whether you're playing a game or watching a movie, the blaster will get you to the action faster, allowing you to leave your remotes behind. You'll experience the enhanced comfort of the new Xbox Wireless Controller, featuring a sleeker, more streamlined design. Get up to twice the wireless range. Stay on target with textured grip. And with Bluetooth® technology, you can play your favorite games on Windows 10 PCs, tablets, and phones.
500GB
Bluetooth technology
High Dynamic Range
4K Ultra video
Features
Own the Xbox One S Minecraft Favorites Bundle (500GB), featuring full game downloads of Minecraft for Xbox One and Windows 10
Includes the Favorites Pack, featuring seven fabulous, community-favorite content Packs such as Halo Mash-up and Festive Mash-up
Also includes the Builder's Pack, featuring six additional content Packs like the Biome Settlers Pack 1 and Greek Mythology Mash-up
Watch 4K Blu-ray movies or stream in 4K Ultra HD
Play Xbox 360 games with advanced features like Game DVR and in-home streaming to Window 10
Show more
Open Auctions