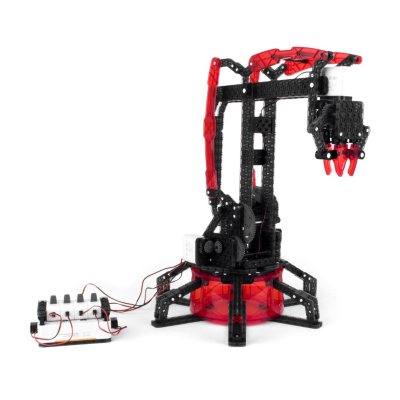 Description
Item: 844780
Brand: Hexbug
Model: 406-5437
This build-it-yourself Motorized Robotic Arm is educational STEM*-based fun. Using intuitive snap-together pieces, this kit features an easy assembly and fascinating results. Hook up your motor and watch in amazement. This arm can pick up and relocate items, using four degrees of freedom and an articulated grabber hand. The whole crane can rotate an impressive 360°, allowing this miniature robot to perform the complex actions of its real-life counterpart. Kids and robotics enthusiasts alike will have fun building this STEM-based kit that pays special attention to important scientific principals, including gear reductions and power transfer through the robotic arm's intricate gearing techniques.
HEXBUG® hopes to inspire future generations of engineers and designers by allowing them to explore this exciting field through the fun of hands-on creative play. Requires (3) C cell batteries (not included). Ages 8+.
*STEM: An acronym that refers to the academic disciplines of Science, Technology, Engineering and Mathematics.
A completely functional construction kit inspired by real industrial robot arms
This construction kit challenges you to not only Build Genius™, but also build a fully functional VEX® Motorized Robotic Arm at the same time
The unique VEX® Robotic Arm is motorized and can pick up and relocate items using four degrees of freedom and an articulated grabber hand
The whole crane can rotate 360°, allowing this miniature robot to perform the complex actions of its real-life counterpart
HEXBUG® believes in using the fun of robotic toys to teach kids important STEM principles through hand-on learning
The VEX® Robotics Robotic Arm feature two alternate builds for more robotic fun
All motorized robotic arm construction pieces are compatible with educational VEX® IQ pieces (sold separately) to create your own custom VEX® robot and explore unlimited possibilities
Features
Build your own robot construction kit
Exclusively from HEXBUG®
Show more
Open Auctions