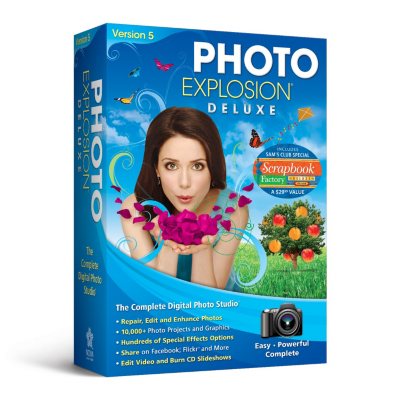 Description
Item: 808907
Brand: Nova
Model:
Photo Explosion Deluxe 5.0: Millions of creative combinations are possible with advanced color manipulation and unparalleled special effects and painting tools. Plus you can add backgrounds, frames, props, balloons and more.

Includes a Video Tutorial, NEW retouching tools, and powerful drawing tools. Easily remove backgrounds! Compatible with point & shoot, compact, SLRs, mobile phones, web cams and more. 3,000+ ready-made photo projects including scrapbooks, greeting cards, certificates, posters, signs, postcards and more, 2,000+ frames, props & embellishments and 100 special effects. Transform text with eye-catching effects, warp and shape options, turn a series of photos into incredible panoramas or collages, print photos in dozens of formats including contact sheets & thumbnails, create movies and slideshows using powerful video editing tools. Then upload to YouTube, Facebook & Flickr.
Special offers and discounts for owners on professionally printed greeting cards, announcement, photo canvases & more. You can also morph one photo into another and burn CD photo slideshows you can watch on TV complete with background music and transitions.
Scrapbook Factory Deluxe 5.0: Improved! Brand New User Interface is easier than ever to use. Millions of unique possibilities with more than 6,500 scrapbook templates and customizable projects. Also, 75,000+ sensational graphics, 1,500+ fonts and 6,000+ photorealistic embellishments all inside the box.
The Complete Digital Photo Studio
The #1-Selling Scrapbooking Software
Features
Photo Explosion Deluxe 5 – with

powerful editing features, spectacular special effects and professional-quality photo projects all together in one program

Now easier than ever with a brand new user interface and improved workflow for fixing, enhancing, editing, archiving and sharing digital photographs
More than 100 exciting new features plus 10,000+ photo projects and graphics all designed to let you get the most out of your camera and mobile phone photos
Upload your photos, slideshows and video projects to popular social networking websites
Preserve precious memories to share with loved ones and future generations with version 5.0 of America's #1 best selling scrapbooking software
Scrapbook Factory Deluxe 5.0 offers the ultimate collection of templates for scrapbooks and other keepsake projects, featuring beautiful graphics and inspirational quotations sure to capture the excitement of any occasion or event
Show more
Open Auctions