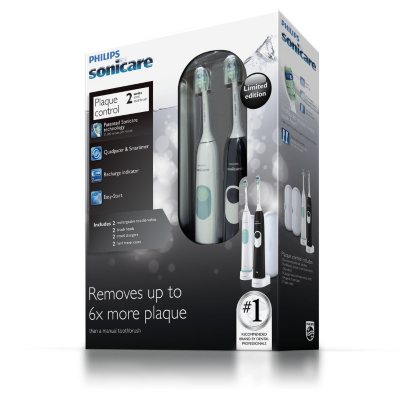 Description
Item: 533215
Brand: Philips Sonicare
Model: HX6252/71
Better Plaque Removal to Help Reduce Cavities
This Philips Sonicare Toothbrush provides better plaque removal and access to back teeth. Brushing twice a day every day with this brush can help reduce cavities
Removes up to 6x more plaque than a manual toothbrush
The toothbrush removes up to 6x more plaque than a manual toothbrush for a superior clean.
Sonicare dynamic cleaning action drives fluid between teeth
Sonicare's patented sonic technology creates a unique dynamic cleaning action that drives fluid deep between teeth and along the gumline for a thorough-yet-gentle clean.
Angled brush head for better access to back teeth
The slim, angled brush head of this toothbrush provides better access to back teeth and hard-to-reach places.
Better cleaning in hard-to-reach areas than a manual brush
The slim, angled neck and easy-grip handle helps to clean hard-to-reach areas better than a manual toothbrush.
Smartimer helps you meet recommended brushing time
This Philips Sonicare power toothbrush features a special Smartimer to help you meet the dentist-recommended brushing time of two minutes.
Electric toothbrushes that reduce the risk of cavities and help prevent tooth decay
Angled brushheads offer better cleaning in hard-to-reach areas
Smartimer keeps track of 2-minute brushing time
Features
2 rechargeable toothbrush handles
2 ProResults Plaque Control toothbrush heads
2 travel chargers
2 travel cases
Smartimer keeps track of brushing time
Show more
Open Auctions