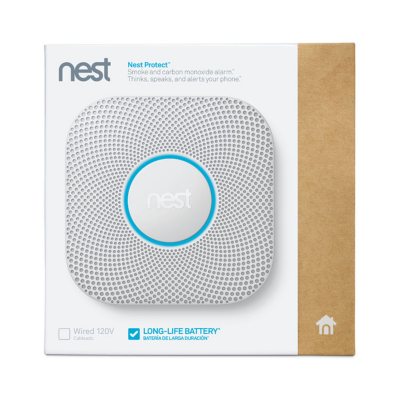 Description
Item: 893503
Brand: Nest
Model: 4T8035
Meet Nest Protect.
There's never been a smoke and CO alarm quite like this. Nest Protect alerts you when it detects carbon monoxide, smoldering fires and fast-burning fires. Away from home? No need to worry — Nest Protect will contact you on your smartphone.
Detects smoke and carbon monoxide
10-year product lifetime
Safety checkup
Heads-up alerts
Wireless Interconnect
Features
How Does it Work?
Get alerts on your smartphone.
Nest Protect sends you a message when there's a problem or the batteries run low.
Tells you what and where.
Nest Protect speaks up if there's smoke or CO and tells you where it is, so you know what to do.
Sees the CO you can't.
Carbon monoxide is an invisible, poisonous gas. Nest Protect tells you where it's hiding.
A light in the dark.
Pathlight turns on like a night light when you walk near the Nest Protect, and turns off when you walk away.
Every second counts.
The Split-Spectrum Sensor looks for both fast- and slow-burning fires.
Hush from the Nest app.
Just burned the popcorn? Quiet the false alarm with your phone, not your dish towel.
10-year life span.
Nest Protect's sensors are built to last for up to a decade.
Sleep safe and sound.
Nightly Promise emits a quick green glow when you turn out the lights, signaling that the batteries and sensors are working.
About Nest
Based in Palo Alto, California, Nest takes the unloved products in your home and makes simple, beautiful, thoughtful things.
Specifications

Sensors
Size and Weight
Speaker Loudness
Horn
Light Ring
Languages
Wireless
Batteries
Connectivity Requirements
Operating
Warranty
Certification
What's in the Box
Nest Protect Wired Also Includes:
Split-Spectrum Sensor
10-year electrochemical carbon monoxide sensor
Heat sensor, ± 1.8ºF (± 1ºC)
Humidity sensor, ± 3%RH
Occupancy sensor, 120º field of view to 20 feet
Ambient light sensor
Omnidirectional microphone, 70dBA SNR

Height: 5.3" (13.5 cm)
Width: 5.3" (13.5 cm)
Depth: 1.5" (3.85 cm)
Mass: Nest Protect Battery: 13.9 oz (379 g), Nest Protect Wired: 13.2 oz (375 g)

80dB @ 3 feet (1 m) @ 1kHz

RGB color ring with 6 LEDs

Out of the box - US: English, Spanish, Canada: English, French
Downloadable - English, French, Spanish, Dutch

Working Wi-Fi connection: 802.11 b/g/n @ 2.4GHz
Wireless interconnect: 802.15.4b/g/n @ 2.4GHz
Bluetooth Low Energy (BLE)

Nest Protect Battery

Six long-life batteries (Energizer® Ultimate Lithium "L91" AA)

Wi-Fi connection
Phone or tablet with iOS 8 or later, or Android 4 or later
Free Nest account

The alarm should not be installed in locations where the normal ambient temperature is below 40ºF (4ºC) or exceeds 100ºF (38ºC).
Humidity range: 20%RH to 80%RH (non-condensing).

2-year limited warranty. For help, visit nest.com/support. Our support team is also available by phone 24/7.

Nest Protect has been tested to comply with safety standards UL 2034, UL 217and NFPA-72 set out by UL and California State Fire Marshal.

Nest Protect
Batteries
Backplate
Four screws
User's Guide
Welcome Guide
Show more
Open Auctions