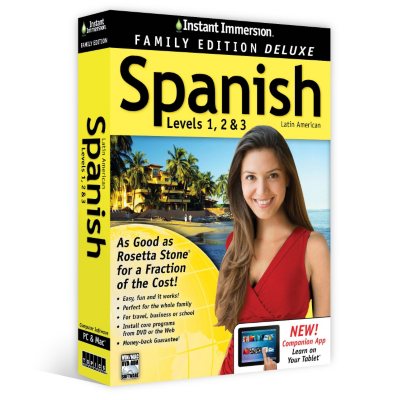 Description
Item: 232409
Brand: Topics
Model: 81397
Instant Immersion Levels 1, 2 & 3 Family Edition Deluxe was created so that everyone in a household can learn a new language. And now with the Level 1 Companion App, you can practice anytime, anywhere on your tablet. The best part is that you get the software, plus five more ways to learn at a fraction of the cost of other similar products!
Instant Immersion's™ goal is to get you as close to an immersive environment as possible without you having to move to a new country. Now you get our award-winning software, plus 5 extra ways to learn, including the all new Companion App! Simply download it once and you can learn on your tablet anywhere, anytime! It makes a great complement to the software.
Instant Immersion's best-selling programs have helped more than 6 million people with their language-learning goals. Now, it's your turn. Try Instant Immersion Family Edition Deluxe. We guarantee you will be satisfied or we will give you your money back! Read on to find out more about Family Edition Deluxe.
In Level 1 of the software, you will learn the basics using the same image-association technique you used to learn your first language. You will begin to understand, read and speak essential words in categories such as food, numbers, shopping and time.
In Level 2, you will be ready for more vocabulary and phrases. Practice your speaking skills using our Voice Recording Feature—listen to a word spoken by a native speaker, then record yourself saying the word. This natural listening process will give you confidence to speak in real world!
Level 3 gives you a comfortable, easy way to practice speaking in the real world by participating in conversations with native speakers. The software's modern interface helps you easily navigate each level and keeps track of your progress. Use the best installation method for your device: download the software using the DVD or from the Internet, and install the software on every computer in your home with the Unlimited Household Computer License—that way everyone in the family can learn! Research shows people learn better with friends and family.
Transfer over 10 hours of audio lessons to your MP3 device to listen and learn anywhere—in the car, on a plane or even while at the gym! Our interactive DVD gives you an opportunity to practice with fun, interactive language games for the whole family on your TV! Works easily on your DVD player and with your remote control. Or have fun practicing with an immersive mystery computer game, Who is Oscar Lake? Instant Immersion's™ laminated Pocket Phrase Guide can go anywhere! Taking a trip? Bring it with you for quick, convenient help with common words and phrases. Or practice quizzing yourself while sitting in the doctor's office.
Wherever you are—at home or on the road—you'll be able to learn with Instant Immersion™ Family Edition Deluxe!
•Over 6 million sold!
•Includes new Companion App
•Easy, fun and it works!
•Money-back guarantee
•Windows & Mac Compatible
•What's inside: 3 levels of language learning on DVD-ROM, the new Companion App, an interactive DVD that plays on your TV, audio lessons that can transfer to your MP3 device, the Who is Oscar Lake? computer game, an unlimited household computer license, the ability to install the software using the DVD-ROM or from the Internet, and a take-along pocket phrase guide

Features
PC:
Microsoft Windows XP/Vista/7/8, 960x600 color display, sound card, DVD-ROM drive or Internet access for installation, microphone (recommended), DVD player/drive for video disc.


Macintosh:
Intel Mac OS X 10.6 – 10.8, 960x600 color display, sound card, DVD-ROM drive or Internet access for installation, microphone (recommended), DVD player/drive for video disc.


Tablet:
iOS: minimum v. 6.1, screen 1024x768
Android: minimum v. 4.0, 7" screen (800x600)



Show more
Open Auctions