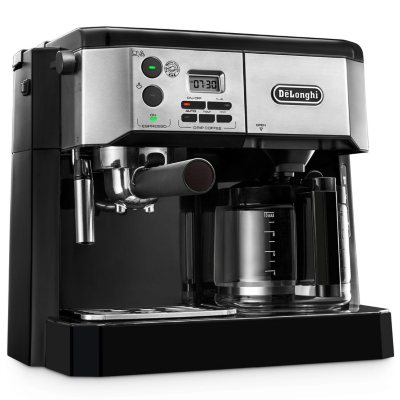 Description
Item: 980120539
Brand: De'longhi
Model: BCO430BM
Coffee or espresso? With the De'Longhi Combination Pump Espresso/Drip Coffee Machine, you don't have to choose. Able to brew two drinks at once, this one machine does it all: authentic 15-bar espressos, cappuccinos, lattes, coffee and even hot chocolate. And it does it all to perfection.
Become your own barista with the innovative preparation system that makes it easy for the at-home user to create better-than-the-coffee-shop beverages. With a full cappuccino system on one side and a drip coffee machine on the other, it's the perfect machine for entertaining. The espresso side features 15 bars of pressure for drawing the most flavor into each cup of espresso, at the temperature you like. The drip coffee side has a front-loading system so you can load water and coffee easily without having to move it from its place.
De'Longhi's patented Flavor Savor™ brew system delivers maximum flavor and extraction and aroma. The advanced active carbon filter keeps water fresh and free of for the best-tasting, full-flavored brewed coffee. The 24-hour digital timer shuts off automatically, so fresh-brewed coffee is ready when you are. Select Brew Pause to pour yourself a coffee before the brewing cycle ends.
The combination espresso and coffee machine features a black-finish housing with stainless-steel plates, making it a gorgeous addition to your kitchen counter or office. And with no need for two machines, you gain precious counter space back with the convenience of brewing espresso and coffee at the same time on one machine!

Authentic 15-bar espresso, cappuccino, latte and coffee
Create rich, creamy froth for evenly textured beverages
Flavor Savor™ Brew System for maximum flavor and aroma
Advanced active carbon filter to keep water fresh and free of impurities
Features
Multitasking machine has dual pump espresso and 10c drip coffee
Warming plate to keep your coffee warm and fresh after brewing
24-hour digital timer with auto shut-off for ultimate convenience
Large water reservoir for espresso and a 10-cup carafe for brewed coffee
The Brew Pause feature allows you to pour as soon as you are ready
Front-loading system for accessing both water and coffee reservoirs without moving the machine
Show more
Open Auctions