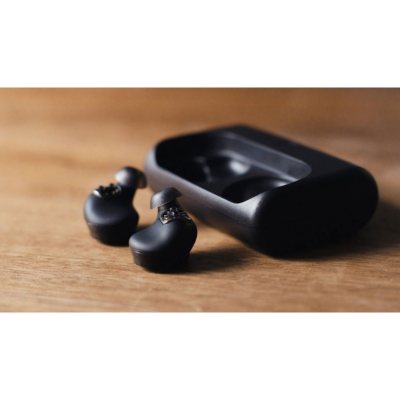 Description
Item: 980082432
Brand: Bragi The Dash
Model: 339127.2
Listen to your favorite music. Track your activities with in-ear biometric technology; receive live feedback of your heart rate, steps and duration. Gain insights on the go. Handle calls with built-in wireless Bluetooth. Capture the environmental sounds around you, or mute the surrounding ambient sounds with our audio transparency feature. Stand alone or use with your smartphone. Get 3 hours battery life. Recharges up to 5 times.

Update the software on The Dash

Software updates will introduce new features and other improvements that let you do even more with your Dash. You can check for new updates by visiting the manufacturer's website from your computer. You can also be notified of upcoming updates via their newsletter. Be sure to keep your Dash updated so that you don't miss out on the latest features and get the best possible experience. You can watch an update video and read instructions at the manufacturer's website.

Truly Wireless Smart Earphones

Listen. Track. Communicate. The Dash combines three amazing technologies in one revolutionary product. Bragi's revolutionary lightweight design and state-of-the-art technology gives you freedom and comfort.

Easy Listening

Enjoy crystal-clear wireless audio through bilateral balanced armature speakers. Stream audio via Bluetooth, or leave your smartphone behind and use the integrated 4GB music player.

Perfect Comfort

Find the PerfectFit for your ear with our FitSleeves. The PerfectFit ensures a secure and comfortable earphone experience. Swim, run, jump or dance - the Dash stays in your ears.
Features
Bilateral balanced armature speakers
4GB integrated music player
Listen to music without any other device, or stream crystal-clear audio from your smartphone, tablet or computer
Smart biometric tracking - track activities and receive live feedback, keep an ear on your performance while running, swimming or cycling
Wireless call handling and ambient sound control
Two ear bone microphones, two environmental microphones filter your voice, even in busy surroundings
With Audio Transparency, listen to the world around you or swipe to mute it
Passive noise cancellation
Bragi App lets you connect and set up The Dash with the Quick start Guide, check live activity values, customize your sound settings, adjust volume or control audio transparency remotely
Recharge on the go up to 5 times with the portable charging case.
3 hours playback per charge.
The Dash's rechargeable lithium polymer battery has outstanding performance, packing 100 mAh into an incredibly small package, with no lead, no mercury and no cadmium
The Dash adapts to your ears for a PerfectFit - Bragi has created a design that securely stays in your ears, even in extreme situations and strenuous activities
Includes nano-coated silicone sleeves in four sizes (XS/S/M/L)
Includes Leash - Crafted for the adventurous: The Leash holds on to your Dash so you can focus on catching the next big wave. Just loop it over the tip of The Dash and secure it with The Clip.
Show more
Open Auctions