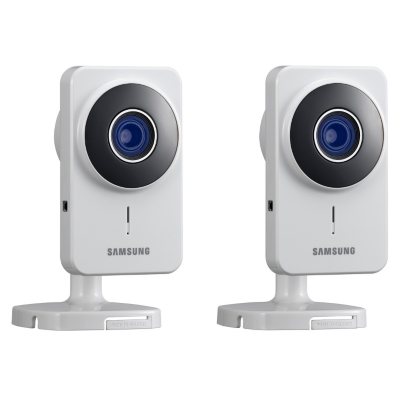 Description
Item: 289966
Brand: Samsung
Model: SNH-1011ND
You can setup Samsung IP SmartCam with a push of a button. With the use of WPS technology, all you have to do is push a button on your camera and push a button on your WiFi router. No need to install or download any software. To monitor your home, simply register at www.samsungsmartcam.com


Monitoring on the go
With Samsung IP SmartCam, you can monitor anytime and from anywhere. Download an app on your iPhone or Android Smartphone, Use your iPad or Android Tablet, or monitor online on your MAC or PC.
Motion and Audio Detection Notification
Have peace of mind knowing that Samsung IP SmartCam was built to help you keep ever vigilant even in the midst of your very busy schedule. Samsung IP SmartCam can be set for both motion and audio detection. Then, it can be set to notify you instantly on your mobile device through an app or even on google talk.
Easy Recording and Sharing
With Samsung SmartCam, you can be sure all you irmportant footage is saved and secured. Working with YouTube, Samsung SmartCam automatically uploads the video to your private password protected YouTube account when the camera detects motion or audio.
Features
Video Code: H.264, MJPEG
Multi-Streaming: Up to 10
WiFi Connectivity: 802.11 b/g/n
Event Detection: Motion and Audio
Video Resolution: 640x480
Frame Rate: 30fps
Night Vision: Yes
uPnP/Bonjour: Yes
Two-way talk: Built-in Mic and Speaker
Video Upload: Auto upload to YouTube
Dimensions: 2.1 x 1.2 x 3.5
Weight: .15 lbs
Show more
Open Auctions