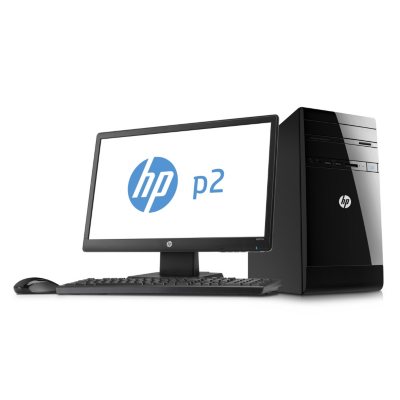 Description
<div class="content_style">
Item: 569209<br>
Brand: HP<br>
Model: H3Z17AA#ABAA<br>

<p>
Enjoy More Entertainment with the affordable HP p2 PC with responsive energy-efficient performance, the HP p2 PC series is more than just a pretty tower. <ul>
<li>HP p2 PCs provide all the familiar, essential features you need for everyday computing, like e-mail and social networking, homework and personal finances, or casual Web browsing and online shopping.
<li>Built-in Vision Technology from AMD gives you super-sharp photos, and smooth and vivid HD video playback—all while helping you save energy.
<li>The simplified design features clean lines.
<li>Convenient center console highlighting the most-used ports—visually separates the top and bottom of the tower into two asymmetrically distinct areas for a modern look and feel.</p>
<font size=+1><strong>Features</strong></Font><BR><BR>
<ul>
<li>Processor Type: AMD E2-1800 Accelerated Processor
<li>Processor Speed: 1.70GHz
<li>Cache: 1MB L2 Cache
<li>Memory (RAM): 6GB PC3-10600 DDR3-1333 SDRAM memory
<li>Maximum Memory: 1x4GB and 1x2GB (expandable to 8GB)
<li>Hard Drive: 1TB 7200RPM Serial ATA
<li>Optical Drive: • SuperMulti DVD Burner ; • Write: 16x max DVD±R, 8x max DVD±R DL, 8x max DVD+RW, 6x max DVD-RW, 5x max DVD-RAM, 40x max CD-R, 24x max CD-RW ; • Read: 16x max DVD-ROM, 40x max CD-ROM ; • Data transfer rates up to 6,000 KB/s (CD read/write) and 21,600 KB/s (DVD read/write)
<li>Multimedia Card Slot: Front panel 6-in-1 memory card reader: supports Secure Digital (SD), xD, MultiMedia Card (MMC), MultiMedia Card Plus (MMC Plus), Memory Stick, Memory Stick ProRSMMC, MMC Mobile, MMC+
<li>Graphics: • AMD Radeon™ HD 7340 Graphics ; • Up to 3GB Graphics System Memory (Total System Memory 6GB DDR3 SDRAM) ; • Up to 2991MB Total Available Graphics Memory as allocated by Windows 8
<li>Audio: High Definition Audio with up to 5.1 surround sound capabilities
<li>Display Size: 20"
<li>Display Type: LED Backlit LCD Monitor
<li>Display Resolution: Not Specified
<li>Keyboard: USB keyboard with volume control
<li>Mouse: Optical Mouse
<li>Webcam: Not Specified
<li>Ethernet: Not Specified
<li>Wi-Fi: 10/100 Base-T Network
<li>Bluetooth: Not Specified
<li>Modem: Not Specified
<li>Ports: • Headphone; Microphone (Front) ; • 4 USB 2.0 ports (Back) ; • 2 USB 2.0 (Front) ; • Microphone-in/Line-in/Line-out (Back)
<li>Expansion: Not Specified
<li>Battery Type: None
<li>Operating System: Windows 8
<li>Manufacturer Software: Not Specified
<li>Other Software: Not Specified </ul>
</div>
<style type="text/css">
.content_style ul{margin-left:25px;margin-top:2px;margin-bottom:20px;}
.content_style ul li{margin-bottom:2px;}
.content_style p{margin:10px 0;}
</style>
Show more
Open Auctions