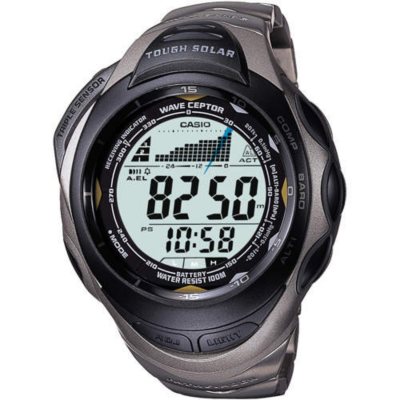 Description
Item: 385125
Brand: Casio
Model: PAW1200T-7VWC
Introducing the PAW1200 Pathfinder Series. Get split second accuracy with the Pathfinder's atomic timekeeping. Each day the watch receives a radio signal from the atomic transmitter in Fort Collins, Colorado. That signal resets the watch to the split second. It also automatically adjusts to Daylight Saving Time and Leap Year changes.
The Pathfinder PAW1200 Triple Sensor measures directions, atmospheric pressure/temperatures and altitudes. This genuine outdoor adventure tool is equipped with Casio's non-stop, self-adjusting solar atomic timekeeping, as well as world-time, stopwatch, countdown timer and 5 daily alarms for multi-functionality.
A tiny, solar panel combined with a large-capacity rechargeable battery enables a variety of energy-hungry functions to operate smoothly. The result is an impressive solar timepiece that assures accurate and reliable timekeeping and greatly reduces the need for battery change.
Self-adjusting multi-band timekeeping receives time calibration signals automatically from up to 5 transmitters around the world (US, UK, Germany and 2 in Japan) and updates settings accordingly for pinpoint accuracy. This technology even adjusts for Leap Year and Daylight Saving Time. With Casio's Atomic Timekeeping Technology, you will always have ultimate precision.
Features
Multi-Band Atomic Timekeeping (US, UK, Germany, Japan)
Receives time calibration radio signals which keep the displayed time accurate
Auto receive function (up to 6 times per day)
Manual receive function
Signal: US WWVB, UK MSF, Germany DCF77, Japan JJY40/JJY60
Frequency: US 60kHz, UK 60kHz, Germany 77.5kHz, Japan 40/60kHz
Tough solar power
Digital compass
16 points of measurement
Measuring Range: 0-359°
Measuring Unit: 1°
Altimeter
Measuring Range: -700 to 10,000m (-2,300 to 32,800 ft.)
Measuring Unit: 5m (20 ft.)
Auto memory measurements
Altimeter memory
Memory Capacity: 40 records
Measurement Data: Altitude, month, date, time
High / low altitude memory
Cumulative ascent / descent memory
Relative altitude display
Altitude tendency graph
Altitude differential graphic
Altitude alarm
Barometer
Display Range: 260 to 1,100 hPa (7.65 to 32.45 inHg)
Display Unit: 1 hPa (0.05 inHg)
Atmospheric pressure tendency graph
Atmospheric pressure differential graphic
Thermometer
Display Range: -10 to 60 C (14 to 140 F)
Display Unit: 0.1 C (0.2 F)
100M water resistant
Low Temperature Resistant (-10 C / 14 F)
Full Auto EL backlight with afterglow
Duplex LCD
World Time
29 times zones (30 cities), city code display, daylight saving on/off
5 daily alarms
Countdown timer
Measuring Unit: 1 second
Countdown Range: 1 minute to 60 minutes
Auto-repeat function
1/100 second stopwatch
Measuring Capacity: 9:59'59.99"
Measuring Modes: Elapsed time, split time, 1st-2nd place times
Hourly time signal
Auto Calendar (pre-programmed until the year 2099)
12/24 hour formats
Accuracy: +/-15 seconds per month (with no signal calibration)
Storage battery CTL1616
Battery power indicator
Power saving function
Approx. Battery Life: 5 months on full charge (without further exposure to light)
Module 3043
Show more
Open Auctions