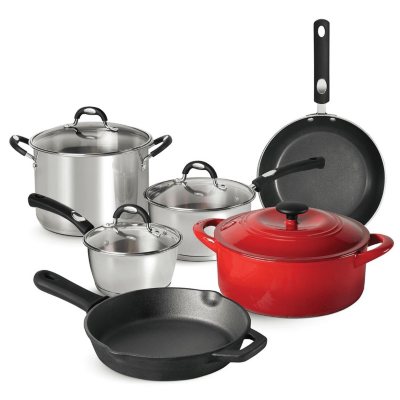 Description
Item: 980115127
Brand: Tramontina
Model: 80198/001DS
Designed to be the go-to cookware for new cooks and aspiring chefs, this 10-Piece Kitchen Essentials Cookware Set will cover all of your cooking needs. Each piece has been carefully selected to sear, brown, heat, fry, bake simmer, braise, roast and slow-cook a variety of savory dishes. The stainless-steel items in this set (1.5-qt. sauce pan, 3-qt. sauce pan and 8-qt. stock pot) feature an induction-ready tri-ply base and tempered glass lids for easy monitoring of cooking progress, and soft-grip silicone handles secured with stainless steel rivets. Made with outstanding quality for functionality and value, this set includes everything you need including:
A 10" porcelain enamel nonstick fry pan that works exceptionally on gas, electric and ceramic glass cooktops, and its easy-to-clean, PFOA-free, Teflon Platinum nonstick interior is ideal for preparing scrambled eggs, omelets, pancakes and crepes.
A 10" pre-seasoned cast iron skillet provides superior heat retention and cooking performance, which is excellent for browning, searing, frying and baking.
A 5.5-qt. red enameled cast iron Dutch oven distributes heat slowly and evenly for simmering soups, stews and chili, as well as braising and roasting meats.
The 1.5-qt. covered sauce pan is ideal for preparing delicate sauces, heating soups, vegetables and liquids.
The 3-qt. covered sauce pan provides a generous capacity for cooking vegetables, steaming rice, quinoa and preparing pasta.
The 8-qt. covered stock pot is essential for large batches of vegetables, soups, stews, chili, and can also be used for canning.
Essential set of cast iron, stainless steel, aluminum cookware
Perfect for searing, browning, frying, simmering and more
Ideal gift for new homeowners, new cooks and aspiring chefs
Features
This set is a well-rounded selection of core cookware pieces for almost any cooking need in the kitchen
Cookware made of cast iron, stainless steel, and aluinumin varying shapes and sizes provide versatility for a wide range of cooking techniques
All cookware pieces (exce porcelain enamel nonstick fry pan) are compatible with all cooktops - including induction
The cast iron items require hand washing
The cast iron items in the set are oven-safe up to 4degree F (232 degree C)
The stainless-steel and aluminum items in the set are oven-safe up to 3 degree F (176 degree C)
The stainless-steel and aluminum items are dishwasher-safe
All pieces in the set are covered under a manufacters Lifetime Warranty
Assembled and packed in USA with imported components

Includes:

" porcelain enamel nonstick fry pan
" pre-seasoned cast iron skillet with silicone grip
1.5-qt. stainless-steel covered saucepan
3-qt. stainless-steel covered saucepan
5.5-qt. red enameled cast iron Dutch oven
8-qt. stainless-steel covered stock pot
Show more
Open Auctions